Benefits of High Tunnels
High tunnel systems, also known as "hoop houses", allow you to extend your growing season by protecting crops from severe weather. Depending on the crops you grow, that may mean growing earlier in the spring, later in the autumn, or even year-round in some cases. High tunnels are particularly useful in areas that experience cold, wet seasons with lots of precipitation, such as Washington and Oregon.
In addition to extending the growing season, high tunnels can reduce nutrient use, prevent pollen and pesticide drift, and improve soil quality. Ultimately, using high tunnels for growing allows you to get higher productivity than you would by growing in an open field.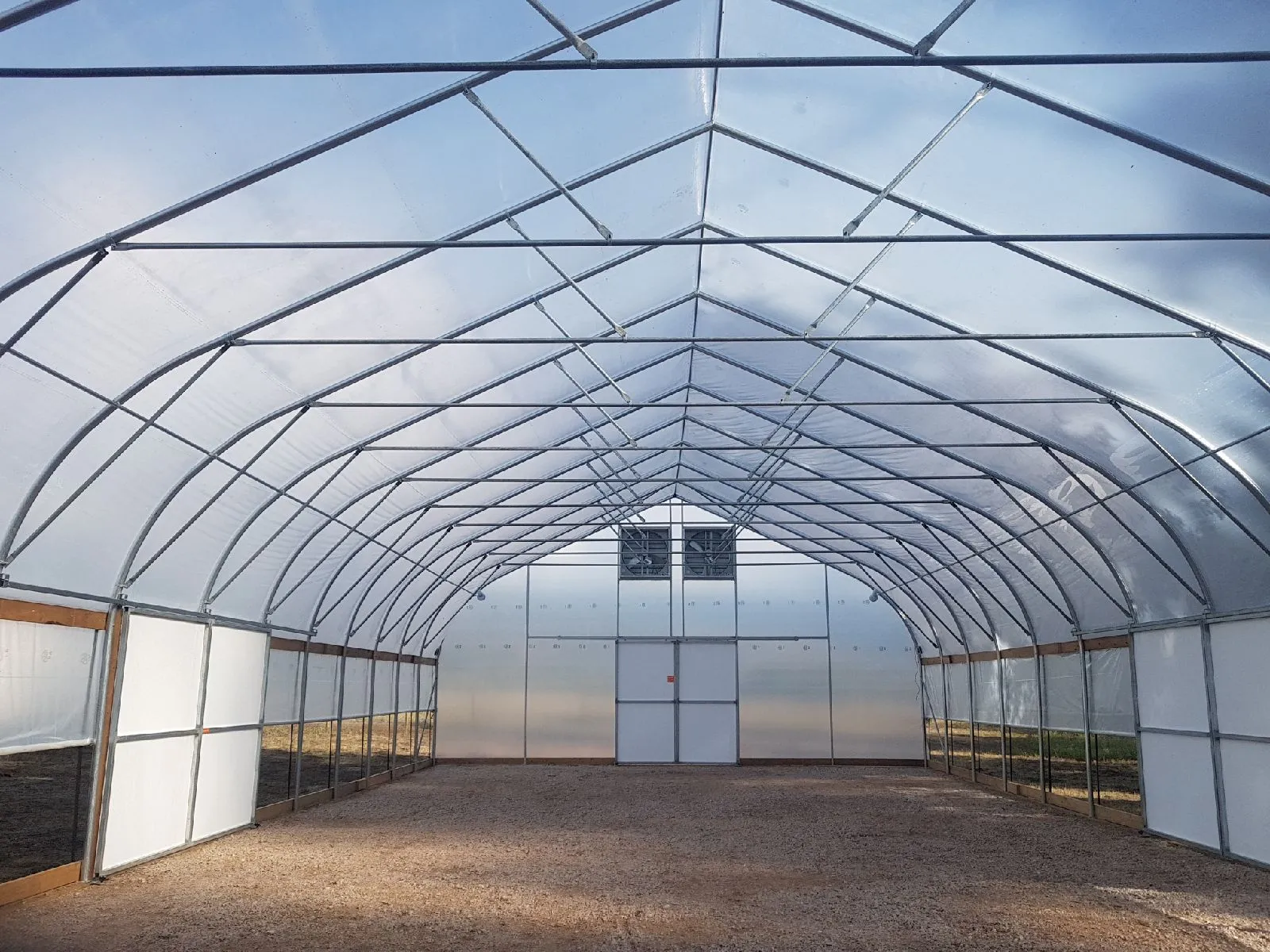 What's the Difference Between High Tunnels and Greenhouses?
Both greenhouses and high tunnels help extend your growing season by protecting your crops from the elements. The main difference is that high tunnels tend to be more lightweight and flexible, making them easier to move. High tunnels are usually covered with a single layer of polyethylene and are typically not temperature controlled the way greenhouses are.
High tunnels, as the name implies, are taller than greenhouses. This makes it possible to bring tall machinery into the growing area, such as tractors and tillers. High tunnels with a single layer of covering allow farmers to alternate between indoor and outdoor cultivation. Farmers can simply remove the covering when they wish to expose the crops to the outdoors.
What are NRCS Approved High Tunnels?
The Natural Resources Conservation Service (NRCS) of the U.S. Department of Agriculture helps farmers across the country adopt conservation practices and techniques that enhance farmers' ability to grow successfully.
The NRCS is promoting the use of high tunnels as a way to adopt conservation practices by providing financial assistance to farmers through the 'High Tunnel Initiative' of the Environmental Quality Incentives Program (EQIP).
How to Apply for the NRCS Approved High Tunnels Initiative
To apply for financial assistance, you should consult with your local NRCS office to discuss your needs and how to move forward. Your local officer can tell you the requirements for your state and help you navigate the NRCS High Tunnel Initiative application process. Applications are accepted on a rolling basis throughout the year.
If your application is approved by the NRCS, you will need to start reaching out to manufacturers of NRCS approved high tunnels to get quotes. For accurate quotes, you'll need to share a list of minimum specifications needed to meet NRCS program requirements with manufacturers and suppliers.
Why Choose Slip Tube for Your NRCS Approved High Tunnels?
Slip Tube is an experienced NRCS Approved high tunnel manufacturer and supplier serving farmers in Washington, Oregon, Colorado, California, and beyond. There are several reasons why you should consider Slip Tube for your NRCS approved high tunnels.
The Best Quality High Tunnel, Greenhouse, and Shelter Components
We don't cut corners when it comes to choosing our raw materials and suppliers. We use the highest quality North American mechanical steel tubing for our frames, which ensures that our structures stand the test of time. All fittings and connectors used to construct high tunnels and other structures, including arches, are created in-house and are hot-dipped in galvanized steel to prevent corrosion.
Efficient Manufacturing and Installation
We design and build custom orders within two to three weeks of receiving a purchase order. Slip Tube high tunnels and greenhouses are easy to install, making it possible for you to become operational more quickly. As soon as you put in an order for your NRCS approved high tunnel, you can rest assured it will be manufactured and shipped to you promptly.
40+ Years of Providing Quality Greenhouses and Shelters
With over four decades of experience in manufacturing high-quality greenhouses and shelters, we are uniquely qualified to provide customized solutions for high tunnel needs. Our skilled team includes talented welders, fabricators, designers, and installers, all working together to meet your needs.
Customized Solutions for Your NRCS Approved High Tunnel Needs
NRCS structure requirements may differ by what state you are in and what you are growing. For example, states may require different heights, types of bracing, or tube gauges to qualify as NRCS approved high tunnels. Regardless of your specific requirements, Slip Tube can provide NRCS approved high tunnels suitable for your growing needs. In addition to standard-sized buildings, we specialize in creating innovative custom coverings for a variety of projects.
Customizable components for NRCS approved high tunnels include shape, width, height, door options, and anchoring. We are also able to provide site-specific engineering to satisfy local building codes and permits.
Get Your NRCS Approved High Tunnel Today
High tunnels are an infrastructure investment that will pay off for years to come. If you qualify for NRCS Approved High Tunnel assistance, then you'll get reimbursed for purchasing and implementing a high tunnel system so you can start enjoying a longer, more productive growing season.
Slip Tube offers the best quality greenhouses and high tunnels around. Contact us to find out how we can provide you with an NRCS Approved high tunnel to meet your unique growing needs.
Contact Us Today